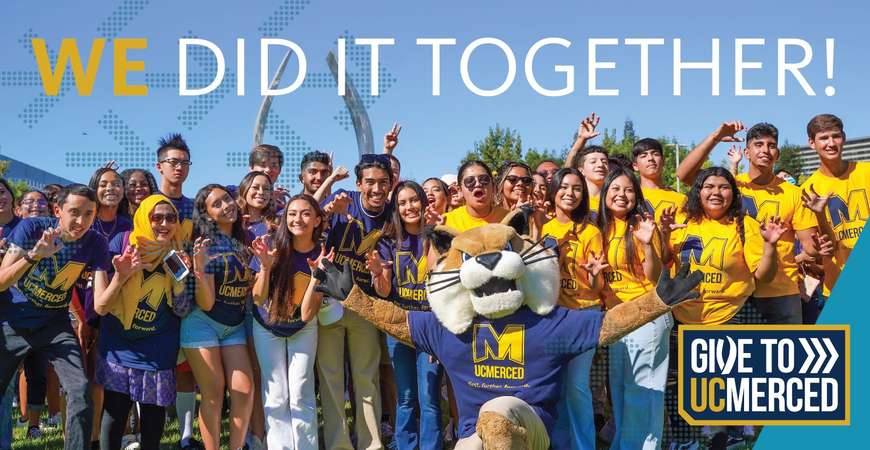 UC Merced's annual month-long fundraising campaign, Give to UC Merced, wrapped up on Dec. 31, 2022, as the most successful in the initiative's history. The effort eclipsed the original goal of $150,000 to raise $952,000 in financial support for students, faculty, research, programs, departments and schools throughout the university.
Now in its ninth year - with 2022 marking the third year in a row that the campaign extended through the entire month of December - Give to UC Merced involved all members of the campus community. Once again, students, staff, faculty, parents, alumni and friends were invited to give to areas particularly meaningful to them, ranging from scholarship and fellowship support and programs focused on student health and well-being to specific schools or departments.
A total of 573 unique donors participated in Give to UC Merced, exceeding the goal of 500.
Gift highlights from this year's Give to UC Merced campaign include the establishment of a new alumni scholarship endowment as well as significant contributions to the Calvin E. Bright High Impact Student Engagement Fund and the Financial Wellness Center to help advance the work of these vital programs.
Additionally, 12 UC Merced donors issued giving challenges by offering donation matches -ranging from $250 to $5,000 - to encourage philanthropic support and help increase overall fundraising totals.
"The generosity of UC Merced's community continues to grow by leaps and bounds with each passing year," said Vice Chancellor and Chief External Relations Officer Ed Klotzbier. "The commitment of our supporters to UC Merced is evident every single day, but shines especially bright in December during Give to UC Merced."
Every dollar raised during Give to UC Merced 2022 will also count toward Boldy Forward , the university's first comprehensive fundraising campaign. Boldly Forward is rapidly approaching the halfway point of its goal to raise $200 million by 2030.