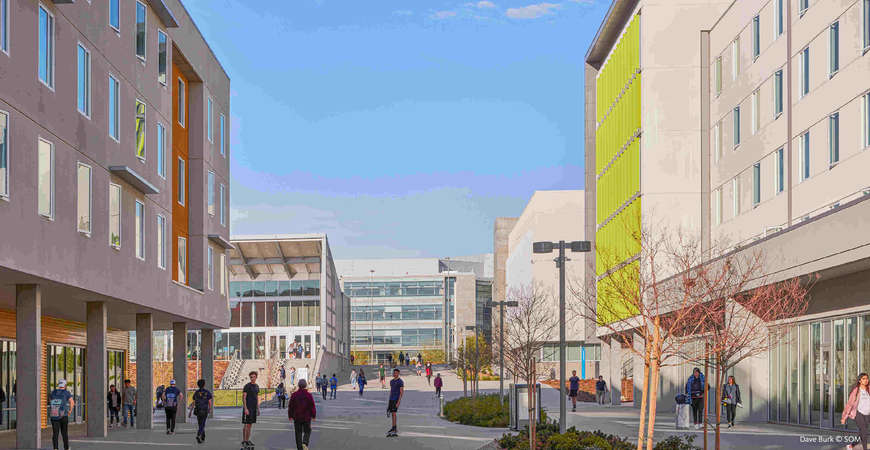 2022 was a banner year for UC Merced marked with growth, innovation and prestige. As we boldly move forward toward 2023, here's a look back at the stories that stood out this year. 
February 8, 2022
A research paper published by graduate student Brandy McKuin is close to becoming a reality. McKuin's findings showed that covering California's 4,000 miles of water canals could reduce evaporation by as much as 82%, saving about 63 billion gallons of water a year. Covering the state water canals with solar installations would also generate 13 gigawatts of renewable power, equaling roughly 1/6th of the state's current installed capacity. A state-funded pilot program in partnership with the Turlock Irrigation District called "Project Nexus" is scheduled to break ground in early 2023. 
---
February 24, 2022
The 2021 drought directly cost the California agriculture sector about $1.1 billion and nearly 8,750 full- and part-time jobs, according to estimates in a new analysis led by UC Merced researchers. Lead author of the report Professor Josué MedellÍn-Azuara paints a bleak picture if conditions persist, stating "...a higher tier of adaptation measures may come into play to reduce economic impacts on agriculture and communities that host thousands of households relying on agriculture for a living."
---
March 28, 2022
Keith Ellis, who received his bachelor's degree in 2012, became the first UC Merced alumnus to serve on the UC Board of Regents - the University of California governing body. His new position as alumni regent is the latest addition to his extended history of involvement with the university, having served as president of the UC Merced Alumni Association from 2014-2020. Ellis has been a key player in encouraging diversity and equity in his various roles and a strong advocate for the LGBTQ+ community, the visually impaired and first-generation college students. Ellis will serve a two-year term which began on July 1, 2022, and ends on June 30, 2024. 
---
April 26, 2022
Providing access and opportunity for students from underrepresented backgrounds is a core tenet of UC Merced's mission. Several programs and initiatives are in place that facilitate this work, the latest being the 1300 Campaign. In collaboration with CSU Stanislaus, the expansion of the Sacramento-based program into Merced, Stanislaus and San Joaquin counties was announced with the shared goal of enrolling 1,300 more young people of color from the Central Valley in the UC and CSU systems by 2030.
---
May 2, 2022
The UC Merced Community and Labor Center (CLC) received a historic multimillion-dollar award to continue its mission of conducting research and educating the public about low-wage work, immigrant and workers' rights, workplace health and safety, among other issues. The funding will support the creation of a Worker Resource Center to advance efforts at greater public education of workers' rights in a region marked by some of the nation's greatest worker and environmental inequities. 
---
May 10, 2022
Nominated by President Joe Biden and confirmed by the U.S. Senate, science Professor Asmeret Asefaw Berhe was named the new director of the Office of Science in the federal Department of Energy. She previously served as the chair of the U.S. National Committee on Soil Science at the National Academies; was a leadership board member for the Earth Science Women's Network; and is a co-principal investigator in the ADVANCEGeo Partnership. Berhe will hold the position through the duration of Biden's term.
---
June 21, 2022
Beginning in the 2022-23 academic year, UC Merced added men's and women's water polo and men's and women's outdoor track as varsity intercollegiate sports. The additions bring the total number of varsity sports to 12. Water polo, which will be elevated from a UC Merced sports club team, will call the Aquatics Center home and compete in the Collegiate Water Polo Association. The track program aims to focus on distance track at the start while competing as a member of the Cal Pac in the NAIA.  
---
July 7, 2022
UC Merced prides itself on its sustainability efforts and continues to raise the bar each year. In recognition of its achievements in this arena, UC Merced was awarded a Platinum rating - the highest rating a higher education institution can receive - by the Association for the Advancement of Sustainability in Higher Education (AASHE). AASHE uses the most widely regarded framework for publicly documenting long-term sustainability goals for high-achieving institutions internationally. In fact, only 11 institutions throughout the nation have earned Platinum rating.
---
July 12, 2022
There is now a direct route from the heavily-traveled Highway 99 to UC Merced, thanks to the completion of the third segment of Campus Parkway. The project, which aims to alleviate congestion in the city of Merced and make travel to and from the university much more efficient, was completed about a year ahead of schedule. The new corridor is expected to provide a boon to the local economy, already ushering in new businesses, developments and jobs. It also lays the foundation for a planned loop system that will facilitate surrounding communities, improve traffic flow and the transportation of goods and connect the entire region to UC Merced.
---
July 18, 2022
Gov. Gavin Newsom and the state of California provided UC Merced with a financial boost by allocating over $100 million to the university in the latest budget. The new funding is earmarked for campus expansion, climate-related initiatives, UC Merced's Community and Labor Center and a potential housing partnership with Merced College. Chancellor Muñoz praised the work done by UC Merced's long-time supporters, including Assemblymember Adam Gray, Sen. Anna Caballero, Assemblymember Jose Medina, "...and, of course, Gov. Newsom, who has been a steadfast supporter of this university."
---
September 2, 2022
UC Merced is a proud member of a coalition that was on the receiving end of one of the biggest federal investments in the Central Valley's history. Named the Fresno-Merced Future of Food Innovation Coalition or F3, the group - which includes Fresno State as well as local farmers, agricultural organizations, community colleges and manufacturers - was awarded $65.1 million as part of the Biden Administration's "Build Back Better" initiative to boost economic recovery following the pandemic. Among the projects that will be funded is iCREATE - an agricultural technology hub that will connect farmers across the valley to industry, boost productivity, create jobs and build capacity for regional sustainability.
---
September 12, 2022
UC Merced completed a three-peat this year, landing on the U.S. News and World Report's annual list of the Top 100 Colleges for the third year in a row. The university was slotted at No. 97 overall and No. 42 for public universities. Additionally, of the 133 schools classified as R2 reasearch institutions in the nation by the Carnegie group, UC Merced came in at No. 15. The campus also ranked No. 13 for economic diversity and No. 5 for creating social mobility by enrolling and graduating large proportions of disadvantaged students who were awarded Pell Grants.
---
September 14, 2022
Entitled "Boldly Forward," UC Merced initially launched its first comprehensive fundraising campaign with an ambitious goal of $100 million by the year 2030. Soon after, the goal was doubled to $200 million following a fast start - which included a transformational $15 million gift from Fred and Mitzie Ruiz - that exceeded projections. The funds that are raised will enhance the university's ability to meet the greatest needs and find solutions for pressing issues facing the Central Valley and beyond. The initiative will also help the campus prepare for increased student enrollment, which is expected to reach 15,000 by the end of the decade.   
---
September 26, 2022
Led by Department of Molecular and Cell Biology Professor Michele Nishiguchi, UC Merced received a $12.5 million grant from the National Science Foundation to develop a new institute that will look at the impact climate change is having on ecosystems. Whereas most climate change research focuses on what you can see, the new institute dubbed INSITE - the INstitute for Symbiotic Interactions, Training and Education - aims to "approach this problem through a microbial lens, so we proposed looking at symbiotic interactions," said Nishiguchi. "Microbes are invisible, and they are important because they are on everything."
---
October 26, 2022
During 2022, sociology Professor Charlie Eaton was an interview subject for several high-profile media outlets including the New York Times, the Washington Post and CNBC. His most visible interview was a guest spot on the "Dr. Phil Show" where the topic of discussion was President Joe Biden's plan to cancel billions of dollars in federal student loans. Eaton's research, which focuses on the relationships between financialization and growing inequalities in higher education, and recently-published book on the topic "Bankers in the Ivory Tower" made him a much sought-after interviewee. 
---
November 2, 2022
The Merced Automatic Admission Program, or MAAP, provides Central Valley high school students a clear path to UC Merced by guaranteeing admission to the university upon fulfillment of certain criteria by their senior year. The program began in Spring of 2021, but really started making headway this past year when Dinuba Unified School District signed on the dotted line. Since then, the partnerships with school districts up and down the valley have grown exponentially, increasing UC Merced's reach to over 33,000 students. 
---
November 16, 2022
UC Merced's designation as an Agricultural Experiment Station (AES) is yet another feather in the university's research cap. Announced along with UC Santa Cruz during the Board of Regents November meeting, the designation comes with additional funding and collaboration opportunities to explore and resolve issues within the agriculture and food production industries. The two universities join UCs Berkeley, Davis and Riverside in sharing the distinction and were the first campuses to receive the designation in 50 years.